Extended Wear – Lyric
Phonak Lyric™: The world´s only 100% invisible, extended-wear hearing aid you can wear 24/7 for months at a time.
This breakthrough hearing aid requires no handling at all and remains in your ear 24/7 …and the best thing is: no one can see how well you hear!
Phonak Lyric™ relieves tinnitus faster than standard hearings aids.

(1)

An estimated 10-15% of a population has tinnitus but most cases go untreated.(2) Although there is no cure for tinnitus, you'll be relieved to know that there are various effective forms of counseling and treatments available.
The Lyric effect:
• Improves sleep quality (1)
• Reduces tinnitus annoyance faster
than daily wear hearing aids (1)
• Lyric is a valid choice as part of
your tinnitus management program (3)
Benefits of Lyric:
• 24/7 amplification
• 100% invisible
• Clear, natural sound

Risk-free 30-day trial available at John Pearcy Audiology, 
Australia's top Lyric provider (2019 and 2022) 
Lyric is placed close to your eardrum and takes advantage of the ear's natural anatomy to minimise background noise and to deliver natural sound quality. What's more, wearing Lyric is so effortless you just might forget you are wearing a hearing aid – there are no batteries to change, no maintenance is needed and no daily insertion or removal is required.
Lyric is worn 24 hours a day, seven days a week, for months at a time. You can wear Lyric during your daily activities – such as showering, talking on the phone, exercising, using headphones and even at night while sleeping.

Lyric is placed entirely inside your ear canal by our Lyric trained hearing care professional.
Thanks to its unique placement, Lyric remains completely invisible from the outside and allows you to enjoy your hearing again. And no matter how close someone gets to you, Lyric remains invisible.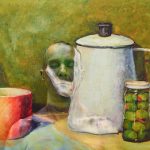 Lyric is sold on a subscription basis. During your subscription period, your hearing care professional will insert a new Lyric hearing aid at each follow-up visit (approximately every 2-3 months). This also means you constantly benefit from the latest technology.
(1) Power D. (2018) Is Lyric an effective option for tinnitus? Investigating the benefits of a hearing aid that can be worn 24/7 (submitted for peer review publication).
(2) Hoffman, H. and Reed, G. (2004) Epidemiology of tinnitus. In: Tinnitus: Theory and Management. Lewiston, NY: BC Decker Inc., 16–41.
(3) J Henry et al(2016) Randomized control trial: Extended wear vs conventional vs combination devices for tinnitus. J Am Acad Audiol 00:1-16.